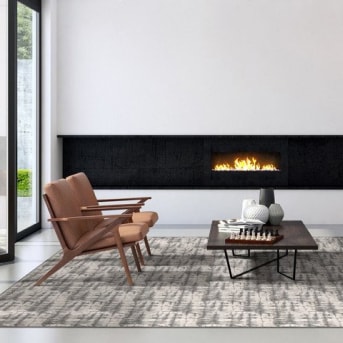 Area Rugs
Any carpet option can be made into an area rug. Creating an area rug is simple, just pick out your carpet material then select the finish you would like your rug to have and what custom size you would like, and we will handle the rest.
View entire gallery
The types of finish that is available are:
Standard Tape Binding – Standard tape is a synthetic or cotton tape sewn around the edge of the run and shows approximately ¼" of face.
Hand Serging - is where the serging of the rug is completed by hand. Normally hand serging shows less of the yarn on the face of the rug. Hand serging takes approximately 5 weeks fabrication time if the material is in stock and the order has been placed.
Machine Serging – A serged edge that forms a continuous wrap of yarn around the edges of the rug.
Modern Edge – A discreet and low profile serged edge with a sleek look. This finish is a great alternative to hand serging.
A Variety of Carpet to Choose From
We partner with multiple manufactures that are passionate about making a product that adheres to the highest standards for Indoor Air Quality, resilient, and design. There is a wide selection of carpet styles, textures, colors, and fiber compositions to choose from. We carry wool, nylon, polyester, and olefin fiber carpets in several construction types, including textured loop, patterned, plush, textured, shag, and more. Visit our showroom to find the carpet that's right for you.