Variety of Hardwood Flooring to Choose From
We offer professional hard surface installation services, our team is experienced in remodels, new construction, and commercial. Eagle Floors + Design strives to be prompt, courteous and knowledgeable in all our work.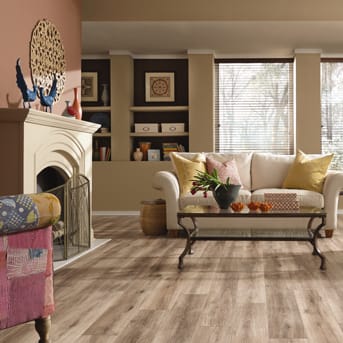 Prefinished Engineered Hardwood Flooring
Factory Finished hardwood Flooring is a finish that cannot be replicated on-site. It is a far more durable finish due to the scratch resistance properties and can only be applied in a controlled factory setting. Prefinished Hardwood Flooring is available in a UV cured urethane finish or hard wax oil finish. The UV cured finish is available in different sheen levels; matte, satin, hi-gloss. Whereas the oil finished products offer a natural matte finish. Oil finished products also allow you to apply more oil overtime to restore the look and luster of your natural hardwood flooring.
View entire gallery
Sand & Finish Hardwood Flooring
Utilizes raw solid hardwood, traditionally ¾" thick, in several different species and widths. The hardwood is installed in the home then the stain color and finish are applied. We use a water-based finish on these products which minimizes VOC levels in the home. Sand & Finish offers the flexibility to create any stain color and sheen to compliment your home design.
Hardwood flooring brands we carry
Hardwood Flooring Gallery