A Variety of Tile to Choose From
Floor tile is made thicker and harder to withstand foot traffic, appliances, furniture, etc. Most have added texture to reduce the risk of slips. Tile that has been rated right for floors can be used on walls. Wall tile tends to be thinner, smoother and more delicate. It is also much slicker when it is wet, which is why wall tile is not recommended underfoot.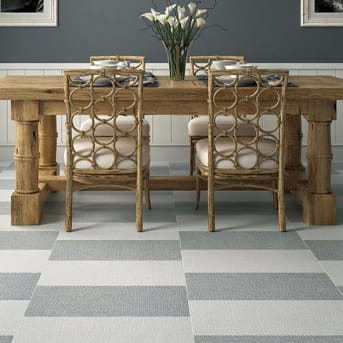 What is Ceramic Tile?
Ceramic tiles are thin slabs of red or white clay that is a material known as bisque. This bisque is given the shape and hardened, through the process of firing, in a kiln with averaging temperatures of 2,100 degrees F. Since ceramic tiles are porous in nature, they are often coated with glaze. The glaze on the tile does not go all the way through, so the core becomes obvious if the tile is chipped. Ceramic tiles are suitable for light to moderate traffic.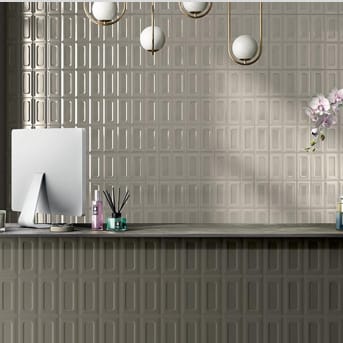 What is Porcelain Tile?
Porcelain is made by pressing porcelain clays and baking at a higher temperature in the kiln than ceramics, averaging 2,350 degrees F. The color may run consistently through the full body of the tile to minimize the appearance of chipping. Glazed porcelain tiles are much harder which have more wear and damage resistance, making them suitable for any residential and light commercial application.
What is nano treatment and how is it applied?
This treatment is not a coating – it is a physical bond that is fired on and is almost impenetrable. Tiles with nano treatment are more dirt and stain resistant, glossier and have more intense color. It consists of applying two different compounds up to ten layers deep to the surface of the tile, polishing between each application and then firing at 2,282 degrees F. These tiles have a hardness equivalent to that of granite.
Visit our Showroom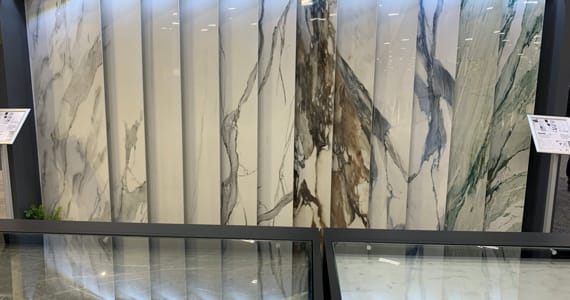 Come on into our showroom to view our limitless selection, including our new large format tile in a marble look porcelain tiles, that come in both polished and satin finishes.
Design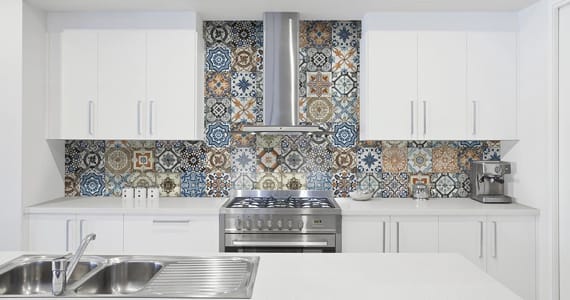 Style your tile the way you want! Need some assistance, we can help with our in-house design team.
View entire gallery
With multiple patterns to choose from: Individual mosaic patterns vary greatly, featuring a multitude of different materials, colors, and tile shapes. Popular materials include glass, natural stone, metal, and porcelain. Use these materials to create your backsplash, shower walls/floor, or a feature strip.
To: Using multiple size tiles on your walls or floor to create the unique design you are seeking.